Framework Design Ltd. are re-sellers for Axelent's X-Guard product. X-Guard is a mesh modular industrial safety fencing system that is quick and easy to install. This system of perimeter safety fencing is used in the form of protection and partitioning systems for industry, warehouses and construction.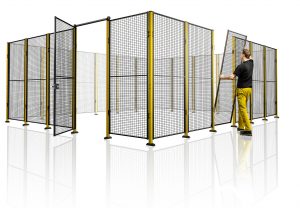 The X-Guard range is available in mesh panel sections or sheet plate and plastic sections. Axelent also has a large selection of doors, locks and accessories enabling us to offer a complete guarding solution tailored to your requirements.
X-Guard development has been based on three main criteria: The system should be flexible, quick to assemble, and comply with all conceivable safety requirements and relevant machinery directives. The result is an incredibly intelligent system with a number of benefits that Axelent's perimeter safety fencing provides. These include:
X-Guard has only one post bracket. Used on both corners and straight walls.
The post's have pre-stamped holes to ensure quick assembly
X-Guard is available in 13 different section widths and 4 different heights
Doors can be rotated to open right or left so this does not need to be decided when ordering (not X-lock)
The attachment is pre-fitted to the wall section at the factory
The spacing between the posts is the same for doors and fixed sections
A door in the corner is standard, no additional fittings are required
20×30 mm section frame is our standard product
X-Guard Light is available as an option
X-Guard is available with rounded corner panels called Contour
X-Guard can be supplied with a bracket that allows the X-Tray cable rack to be easily fitted
Axelent's own SnapperWorks drawing application enables us to quickly provide you with a quotation including drawing and material specification.
If you have any queries in relation to the X-Guard product please contact us.